Deciding on Chiropractic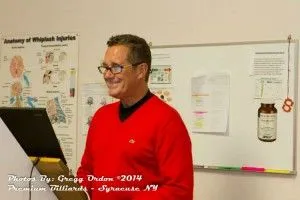 My family and friends thought I was crazy to go back to school, let alone to be a chiropractor. "Why don't you become a real doctor?" they asked.
I always thought I wanted to be an MD. My biggest problem was that I disliked blood. I had taken a job in Florida as a insurance salesman. I continued to feel that I needed to do something in the health care field. I then experienced a couple of "God Winks", coincidences as some would think, and met an older, retired chiropractor from Michigan who convinced me that I was meant to be a chiropractor. He was my Yoda so to speak. The rest is history. I went back to school and have never looked back. The truth is, I was meant to help people and he knew that.
A Chiropractic Education
Dr. Stirpe began his pre-chiropractic studies at the University of Dayton where he took a interest in biology, chemistry, organic and inorganic chemistry as well as philosophy and theology. After graduation he initially took a position with George Washington Life Insurance Company in Pompano Beach, Florida. He then returned to the National College of Chiropractic, now known as the National University of Health Sciences, in Lombard, Illinois. During his four years there he took a strong emphasis in human anatomy, physiology, nutrition, diagnosis, and patient care at the National College Clinic. After graduation in 1982, Dr. Stirpe returned to the Syracuse area were he established his chiropractic practice.
My Family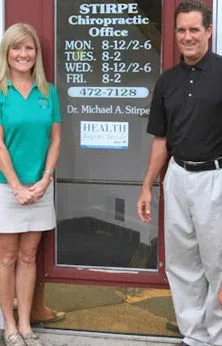 I have been married to my wife Tracy since December 1989. We met while in Lake Placid, she being from NJ and I from Syracuse. We just hit it off from the start realizing that we both had a lot of similarities in the way we were brought up as well as in the way that we thought about life. Together we work to make our chiropractic practice a pleasant experience for all. We have two children, Michael and Kayla, both of whom are in college and working hard. They were very active in sports while growing up but now they put most of their time into studies and their friends. When not at work we love to play golf and vacation, although we don't do that as much as we would like to.
Chiropractic and a "Healthier You!"
I try to get adjusted 1-2 times per month, more so if it is needed. I have had some serious issues with my back in the past caused by several injuries. As a result of that I have found that without care I would not be capable of doing the things that I do. It also helps that I work out 5-6 times per week, every week. I like to do cardiovascular type workouts (treadmill, running/walking, recumbent bike) more than weights but I am slowly changing my ways. That is what is important, making changes to enhance your physical health which in turn enhances your mental health. I have also been active in weight loss and nutrition which has resulted in a successful weight loss for me personally. I now work with my patients to help them achieve a "healthier you." This has been rewarding as well. My family shares in my philosophy by exercising, eating right and receiving chiropractic care. I try to keep people off of medications as much as possible although in some instances that is not possible.
Thank you for visiting our site. Now's the time to give us a call and start working on improving your health through Chiropractic care. Just remember " The longer you wait, the longer it takes!" Don't wait any longer, call our Syracuse office today.